Nippers/Junior Activities
Sign-on for the 2020/21 Nippers season is closed. 
Due to the number of nippers already signed-on, and our requirement to comply with our COVID Safe plan, we are not able to accept any new nippers for this 2020/21 season. Please follow our Facebook page to keep up-to-date for Sign-On Days for the 2021/22 season.
Are you an active family?
This summer would you like to combine a family day at the beach with sporting and educational activities everyone can be involved in?
Then welcome to Point Lookout Nippers!
About Us
Point Lookout Junior Activities or "Nippers" is a family club which aims to teach children to safely enjoy the beach and surf environment.
Membership is open to children aged from 5 to 13 (as at 30 September each season).
Nippers are future lifesavers and are taught all lifesaving skills in a fun environment.
Activities include beach events, surf swimming and boards. Older children are also taught CPR and rescue techniques. Nippers also can compete in carnivals against other surf clubs.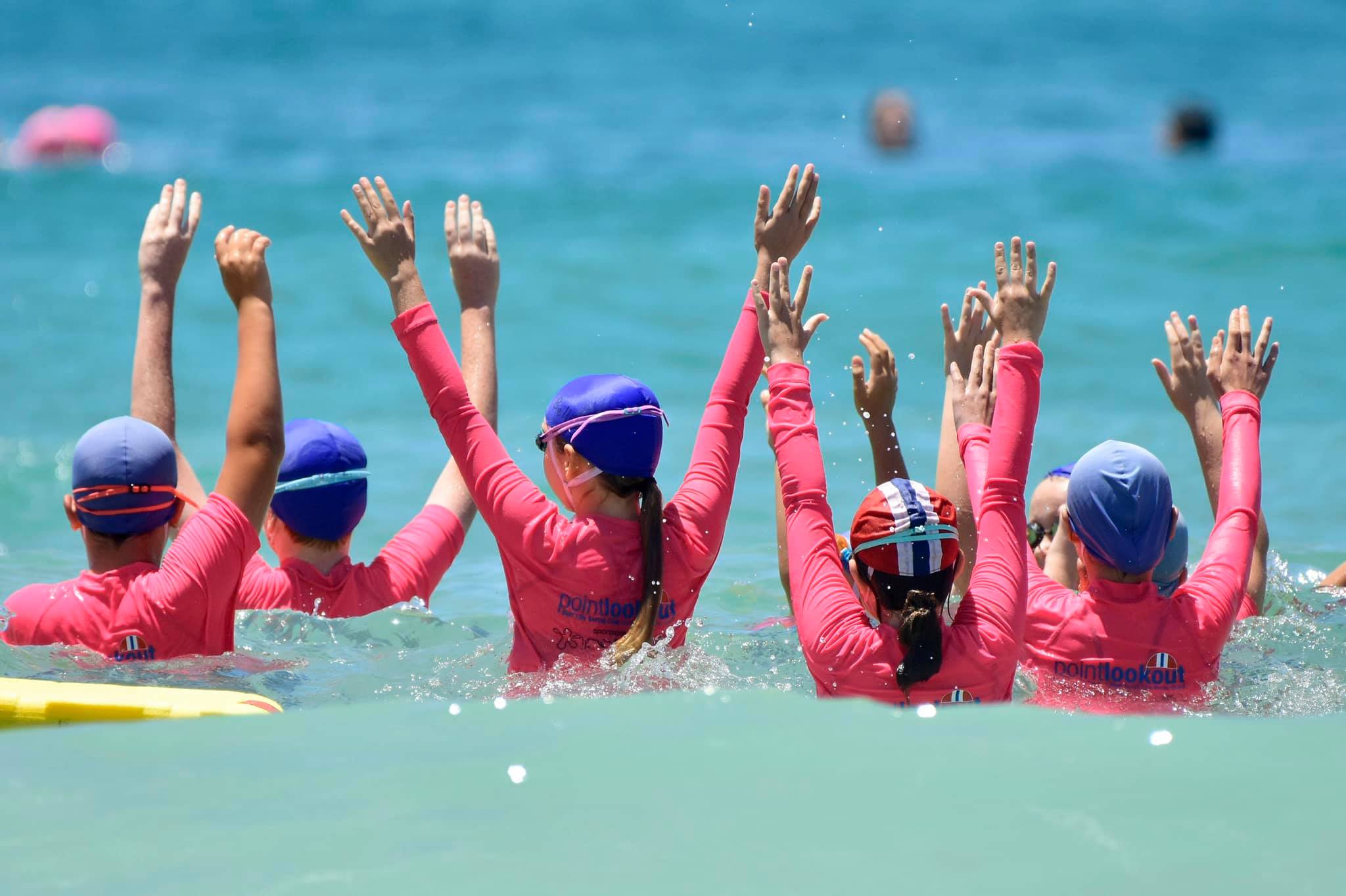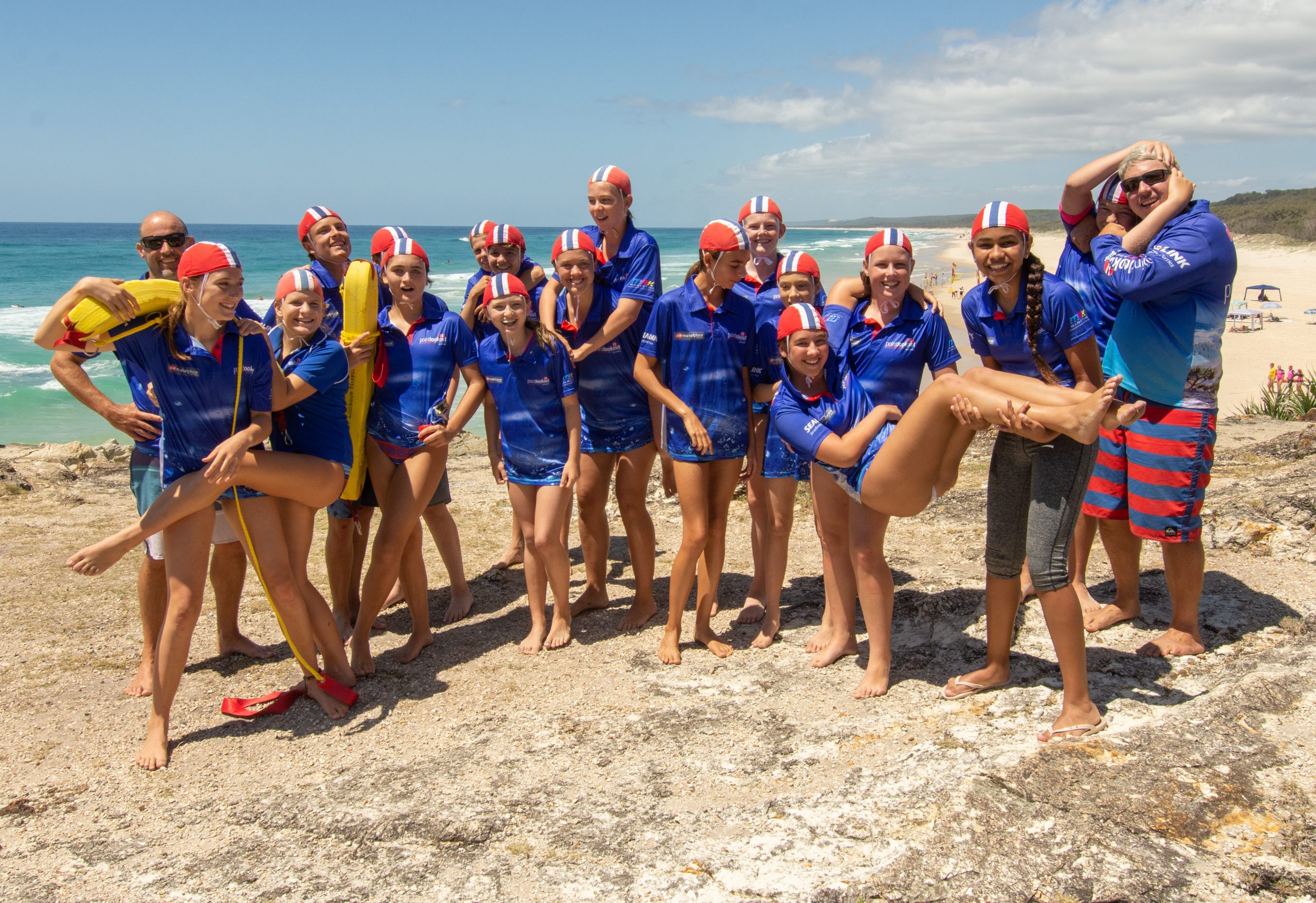 Where & When
Nippers is held on Saturdays from October to March at Main Beach or Cylinder Beach on North Stradbroke Island. Being on the island means we have the ability to choose from the best of beaches for Nipper training each Saturday.
The Day
Point Lookout Nippers is as easy as 1, 2, 3:
You arrive at the Stradbroke Ferries Terminal at Cleveland at 7:30am, transport is provided onto the barge/water taxi, to/from the beach, Clubhouse and return barge.
In the morning, Nippers move into their age groups and are trained by qualified Age Group Leaders. After lunch, Nippers have free time to practice their skills and enjoy the beach with their parents.
On the 3pm barge to Cleveland, children enjoy snacks whilst the adults get to relax and socialise over refreshments.
Cost
Family Memberships are available for the season (less if you are actively involved with the Club).
Nipper Program Fees are currently $100/child (capped at 3 children per family) which covers all transport costs for the family. (Subject to review each season.)
Safety
As we are focused on your child's safety, SLSQ require they pass a swimming competency test appropriate for their age and wear club uniform including shirt, togs and noddy cap.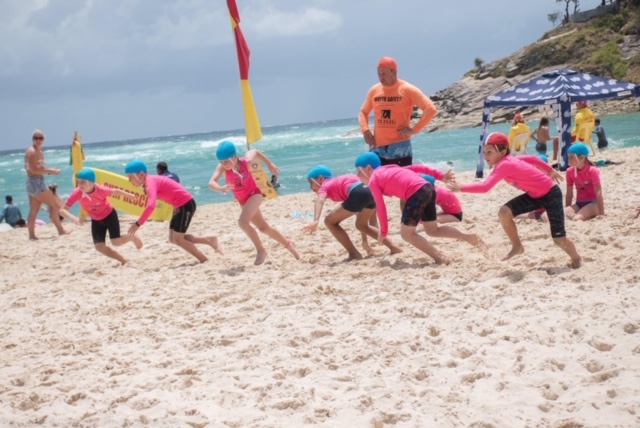 Parental Involvement
We welcome and encourage parental involvement in all aspects of Nippers. From assisting with our lunch preparation to assisting with water safety to becoming an official at carnivals.
We provide opportunities for parents to obtain lifesaving awards including their Bronze Medallion which can lead to becoming an Age Group Leader or Water Safety personnel.
Members are also qualified to participate in regular or volunteer beach patrols.
As well as a focus on surf and beach skills, education and skill development, Saturdays are a great opportunity to catch up with friends and enjoy the beautiful beaches and fantastic weather that are so often found at Point Lookout. After all 'Life is the Beach!'.
To find out more about how you join in the fun at Junior Activities email the Nipper Secretary on jasecretary@pointlookoutslsc.com or the Nipper Director on jadirector@pointlookoutslsc.com.au.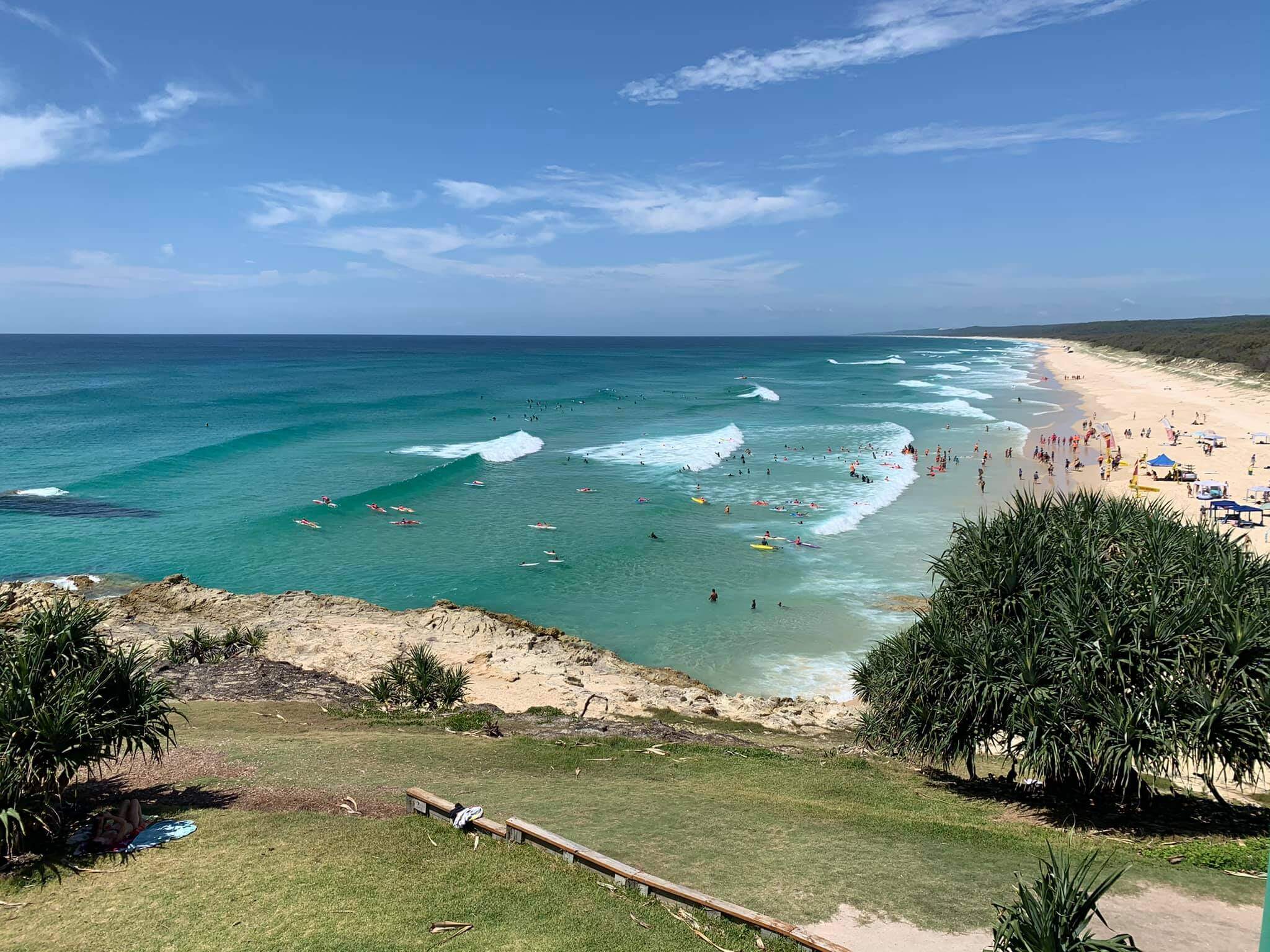 2021/22
 Season Information
The first day of the 2021/22 season is the 9th October 2021 .
Our Program is held every Saturday morning of the season, excluding a Christmas break (dates to be confirmed).
Start time is 9am at the Beach Tents for debrief; beach activities start at 9:30am.
Finish time is approximately 12pm, depending on age groups and conditions.
Lunch is available for purchase and team meeting will be held along with free time and/or additional training. Parents are encouraged to assist with pack up to ensure we all make it to the barge on time. Our Nipper Burgers are world famous and well deserved after a day at the beach.
To Join Point Lookout Nippers
Age criteria
To join Point Lookout SLSC Nippers for the 2021/22 Season, your child must be 5 years old as of 30 September 2021. Nippers is open to children aged 5 to 13 years old.
Age group is determined as at midnight of the 30 September.
Family Membership
As it is a requirement that a parent, guardian or carer (18 years old & older) joins as a member with their child, Point Lookout SLSC offers family-friendly Nipper Family Memberships which include:
Use of all club equipment at no additional charge

NEW nipper cap and pink rashie

Access to all club house facilities
Proficiencies
To join Nipper activities, each child is required to complete pool and beach proficiencies, which vary by age group. Proficiencies will be done upon arrival at Sign-On Days. See chart of proficiencies below.
Sign-On Days
Sign-On for the 2021/22 season has finished.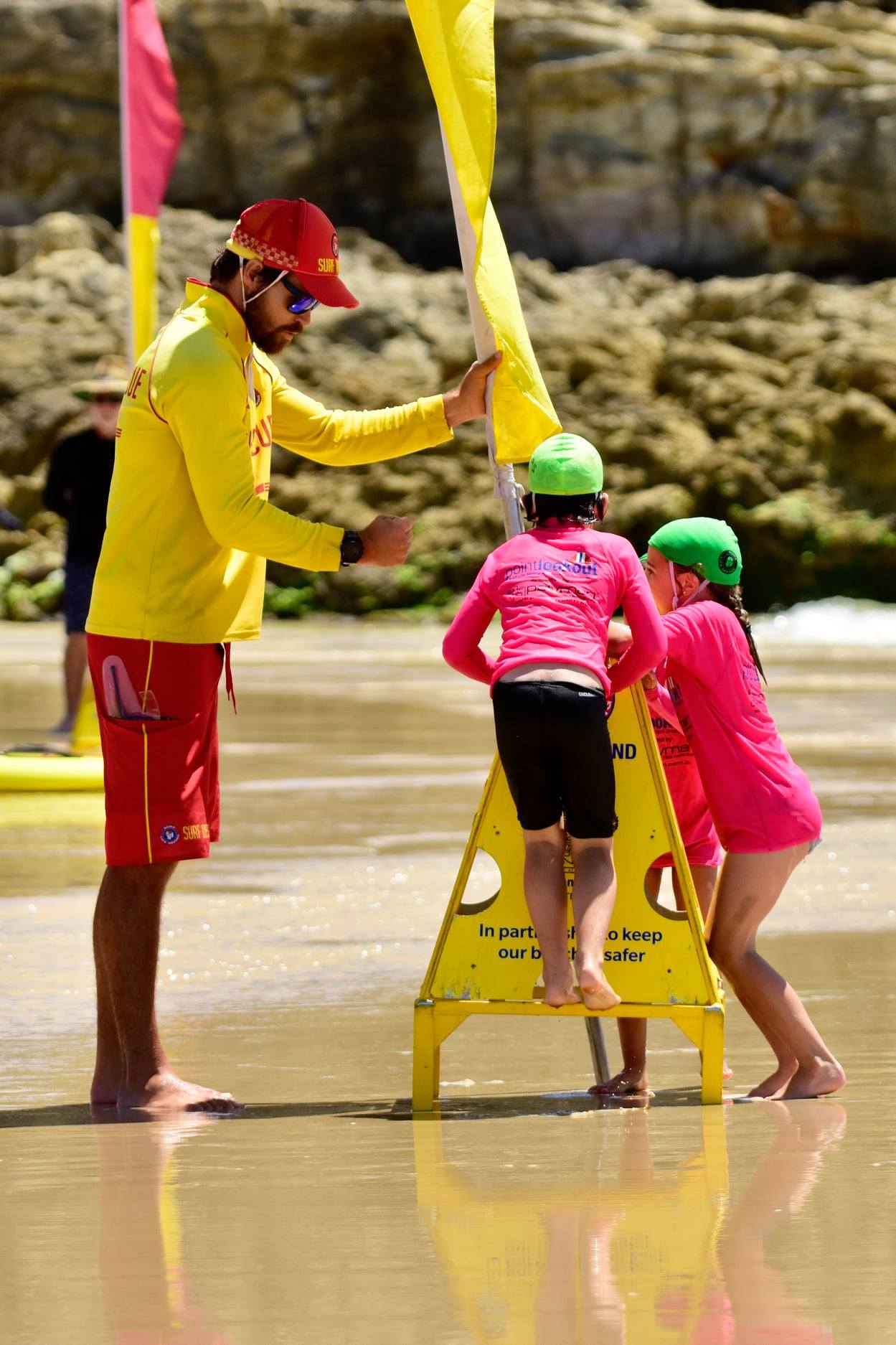 Proficiencies
Pool evaluations can be assessed and signed by an accredited swim instructor at your local pool or swim school.
Simply download and print the Pool Evaluation Form and ask the instructor to complete with identification of their accreditation.
| | | | |
| --- | --- | --- | --- |
| Age | Pool Evaluation | Beach Evaluation | Carnival Proficiency |
| U6 | Kick on wall with face in water + 30 second float | N/A | N/A |
| U7 | Torpedo push off wall with face in water + 30 second float | N/A | N/A |
| U8 | 25m swim + 1 minute float | 25m run 25m wade 25m run | 25m run 25m wade 25m run |
| U9 | 50m swim + 1 minute float | 50m run 50m swim 50m run | 150m open water swim |
| U10 | 50m swim + 1.5 minute float | 50m run 50m swim 50m run | 150m open water swim |
| U11 | 100m swim + 2 minute float | 50m run 100m swim 50m run | 288m open water swim |
| U12 | 100m swim + 2 minute float | 50m run 100m swum 50m run | 288m open water swim |
| U13 | 150m swim + 3 minute float | 100m run 100m swim 100m run | 288m open water swim |
| U14 | 200m swim in less than 5 minutes + 3 minute float | 100m run 100m swim 100m run | 288m open water swim |
Water Safety personnel play an integral role in the Junior Activities Surf Education Program. Without them, participants could not enter the water.
The role of the Water Safety personnel is to look out for Nipper's welfare, support and encourage them while in the water and should anything happen to them, be there to perform a rescue or to administer first aid.
Who can be Water Safety personnel?
Water Safety is a fun and rewarding activity for members who are least 13 years old. It's especially popular with parents of Nippers, and teenagers who have graduated from the Nippers program.
How to join Water Safety
To join Water Safety, you must hold a Surf Rescue Certificate or Bronze Medallion. The club holds training courses throughout the season. Members are eligible to sign up for any courses at no cost. Courses will be advertised closer to the dates.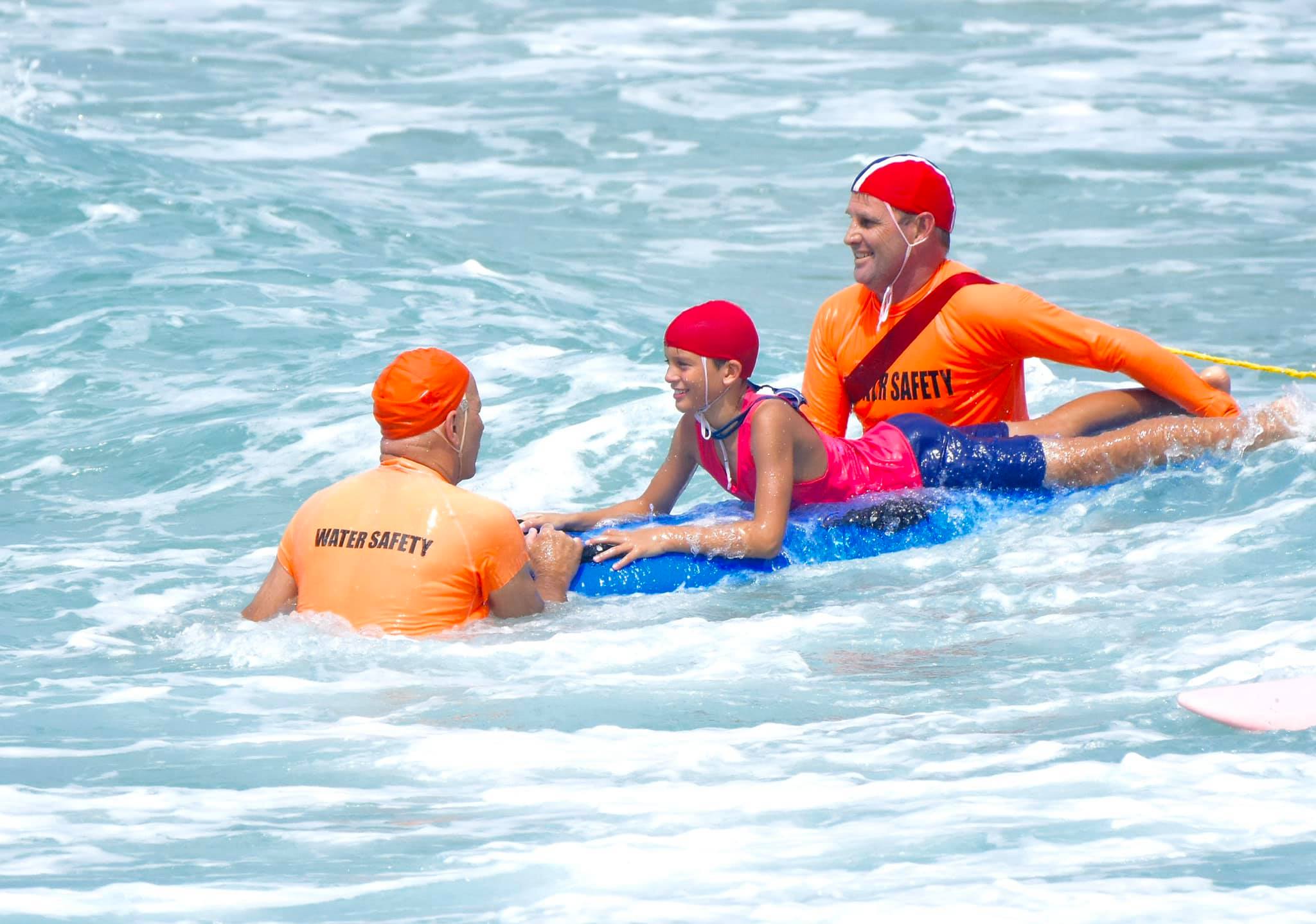 Junior Activities Committee 2021/22
Nippers Frequently Asked Questions
What age group will my child be in?
The age group that your child will be in is calculated to be the age they are as at 30 September the year you are joining. For example, if your child was 11 on 30 September (turning 12 on 5 October) they are classed as being in the under 12 age group (even though they are 12).
How is a Nippers session run?
Each age group is assigned a volunteer age manager and assistant, who are usually parents of Nippers and young lifesaving members.

At the start of every Saturday morning session, nippers are signed on to confirm their attendance

Activities are split into 4 zones – Sprint, Swim, Flags and Board. The various age groups are rotated between each zone every 20 or 30 minutes.

At the end of each Saturday morning session, nippers are signed off.

Water safety volunteers ensure the safety of nippers while in the water.
What does my child need?
Swimmers

Age group cap (purchased from club)
Hi-vis nipper vest (purchased from club)

Long sleeve t-shirt or rash shirt

Sun hat

Towel

Water bottle

Sunscreen.
Does Nippers go ahead in any weather?
Nippers will only be cancelled in the event of severe weather – it is rare for Nippers to be cancelled. Conditions may call for cancellation of water activities however beach activities and Surf Education may still be on.
Changes to Nipper events will be communicated by both Surfguard and Social Media at the earliest time possible.
Is Nippers sun safe?
We actively encourage strict adherence to SLSQ's Sun Safety Policy.
Can Nippers compete in carnivals?
There are a wide range of opportunities available for members interested in participating in surf lifesaving sport. Members from U8 to Seniors can compete in carnivals across the Branch. Carnivals will be advertised throughout the season.